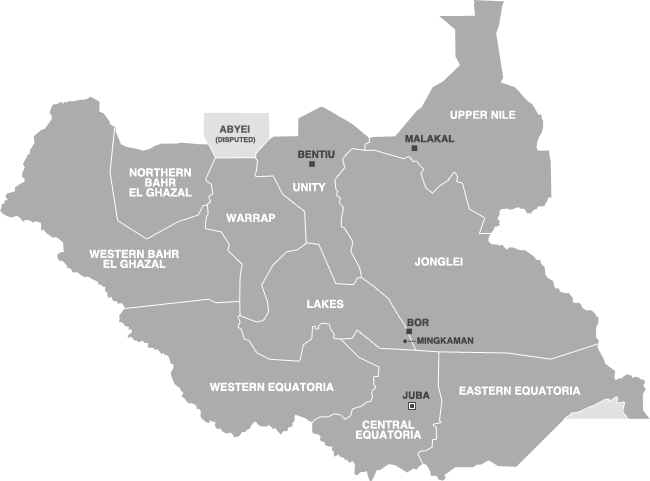 "It's a destruction of life"
Part 1: A return to hostilities
On the night of 15 December 2013, shooting broke out between groups within the Sudan People's Liberation Army, the national army of the Republic of South Sudan. Accounts of precisely what triggered the violence vary but what is clear is that fighting involving troops loyal to President Salva Kiir Mayardit and those backing sacked vice president Riek Machar spread quickly across the capital, Juba, and the rest of the country. Civilians were targeted because of their ethnic group – Kiir is Dinka; Machar Nuer - and were killed in large numbers.
The auxiliary bishop of Juba, Right Reverend Santo Loku Pio, heard much of the first night's fighting from the balcony of his home. Over the next few days, some 7,000 people turned up at the compound of Juba Cathedral to seek refuge.
Many more sought the protection of UN peacekeepers in their military base in Juba. One of them, 34-year-old Tol, said he managed to escape a massacre of fellow Nuer by playing dead among their corpses.
Civilian atrocities also took place amid battles for the control of Bor, which lies 160 kilometres north of Juba on the river Nile. Witnesses said forces loyal to Machar committed mass killings, sexual violence and other war crimes. Tens of thousands of civilians fled to the village of Mingakaman, on the other side of the Nile.
By the end of January, almost 650,000 people had been displaced within South Sudan, with a further 123,000 people having fled to neighbouring countries.
A cessation of hostilities agreement was signed on 23 January and led to a significant reduction in fighting, although sporadic clashes have since continued in some areas.